Chiropractic
Dr. Allen has thirty-seven years experience in the following techniques:
Upper cervical (upper spine)
Diversified (traditional manual chiropractic manipulation)
Manual therapy-spinal mobilization
Thompson technique (drop table)
KST low-force technique (instrument used, gentle & specific)
Arthro Stim low-force instrument adjusting
Extremity Adjusting (shoulder, foot, knee, etc.)
Postural Adjusting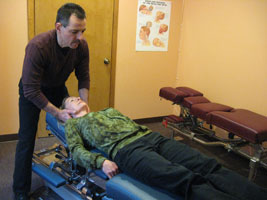 In many cases, a combination of traditional and low-force techniques are used depending upon the preferences of the patient and the efficacy of that approach. We have found in many cases that a low-force approach utilizing the Arthro Stim instrument works better than standard manual adjusting procedures. Though many people still think of the "popping" sound within joints when they think of chiropractors, this is not actually necessary to make a chiropractic adjustment or achieve a chiropractic correction. Some patients prefer the traditional approach (which we use when appropriate) but there are other methods that may actually work better, be more comfortable, and hold longer. The Arthro Stim is the low-force method we prefer.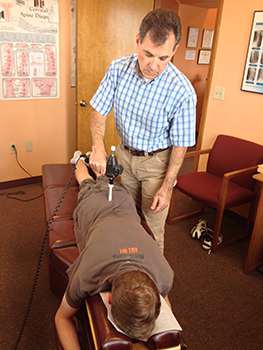 Patients who prefer a completely low-force approach are treated with the Arthro-Stim adjusting instrument exclusively.
An initial appointment consists of a consultation and history followed by an examination. X-rays are not clinically necessary in every case. That is determined by Dr. Allen on an individual, as-needed basis. X-rays are often required following a traumatic event such as an acute injury or motor vehicle accident before chiropractic treatment can be rendered. Our office sends patients to Pen Rad Imaging in Monument for x-rays and MRI.
Our office accepts, credit cards, checks, and cash. We have always kept our fees low to moderate and have a number of affordable cash plans.
Copyright (c) Allen Healthcare Solutions · Office: 719.487.9567 · Text: 719.659.8794